IMP's design team is comprised of state licensed experts specialised in energy, air-conditioning, security, fire-protection and other systems.

Engineering is an area in which IMP has longstanding experience, and represents the company's primary activity. Despite the ever-growing offer of services in the market, IMP has preserved its leading role and competitiveness by maintaining quality.

The IMP team can activate up to 700 highly motivated and experienced experts, fitters and workers from the fields of electricity, mechanical engineering and building construction.

We carry out construction supervision in accordance with the Construction Act, which means that we make sure works are being performed in line with the preliminary design. We control the quality of finished works, installations, technical equipment, construction products, and other materials incorporated in facilities.

In the area of fire-protection systems we cooperate with MINIMAX, an internationally reputed manufacturer of equipment domiciled in Germany, as well as with other recognized producers of fire-fighting equipment.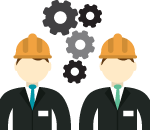 With more than twenty years of experience, IMP, d.d. manages the area of cogeneration projects from planning and execution to the long-term maintenance of complete CHP systems.
PROJECTS
All

Commercial buildings

Energy engineering

Fire protection

Healthcare buildings

Infrastructure

Residential buildings